About
Espressivo, a small intense orchestra, was founded by internationally experienced conductor Michel Singher in 2015. With the leading professional instrumentalists of the San Francisco Bay and Central Coast at its core, Espressivo presents select masterpieces of classical music arranged for 14-26 players. Its season typically consists of three concerts performed at local venues.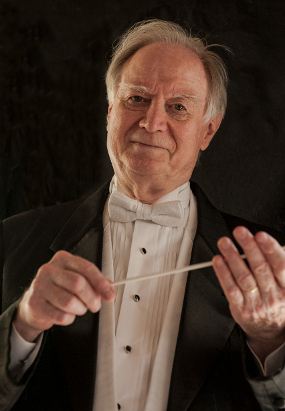 Artistic Director – Michel Singher
Michel Singher was born in Paris in 1940. His family, fleeing the Nazi occupation, eventually settled in New York, where Michel's father, Martial, was a leading baritone at the Metropolitan Opera and his grandfather, Fritz Busch, a frequent conductor. Michel had sporadic piano lessons as a child, eventually progressing to the point where he became his father's recital accompanist while in high school; but teen summers spent with his family at the Aspen and the Marlboro music festivals and at Santa Fe Opera (at all of which Michel served as an untrained percussionist under the batons of such as Darius Milhaud, Pablo Casals, Paul Hindemith and Igor Stravinsky) provided standards for comparison such that Michel was not encouraged to pursue music professionally. He graduated from Harvard College magna cum laude in History and Literature before deciding to venture a career in music after all; with the help of Fulbright and Woodrow Wilson scholarships, he caught up on his missing conservatory training at the Stuttgart Hochschule für Musik and at Indiana University, where he earned a Masters in Instrumental Conducting, "High Honors."

Michel's entry into professional life was at the Hamburg State Opera, where he was a rehearsal pianist/assistant conductor for four years. He was to remain in Europe twelve years in all. During that time he was fortunate to extend symphonic experience acquired in many summers as assistant to Maurice Abravanel at the Music Academy of the West (in Santa Barbara) with appearances on the concert podiums of the Berlin Radio Symphony Orchestra, Hamburg Symphony, Nuremberg Symphony, Siegerland Orchestra and Basel Symphony. But his main activities were in the pit, and after "graduating" from the Hamburg State Opera, he was First Conductor in the opera houses of Regensburg and Freiburg in Germany, Holland's touring Opera Forum, and Antwerp's Royal Flemish Opera, accumulating a large and varied repertoire along with hard-knocks experience.

Maestro Singher repatriated in his late 30s, first to join the faculty of the University of Washington, then at the Oberlin Conservatory of Music; in both positions he was, in addition to teaching conducting, Music Director of the symphony orchestra, the chamber orchestra, and opera. Highlights of his Oberlin years included the inception and organization of an all-encompassing Alban Berg Festival (1985) in collaboration with Oberlin College and the Oberlin Museum; a concert of the Oberlin Orchestra at Lincoln Center for the Beethoven Society; and the broadcasting of several concerts on NPR's "Performance Today."—He enjoyed an academic coda as head of the opera department at San Jose State from 2005-2010.

In the gaps of his academic career, the maestro has conducted for the main opera companies of Anchorage, Boise, Buffalo, Denver, Grand Rapids, Juneau, San Jose, Tallahassee, Tucson/Phoenix, and at the Music Academy of the West, as well as seven productions for West Bay Opera. He was the conductor's understudy and busy rehearsal conductor for three productions at San Francisco Opera. He retired from such arduous enterprise in 2015, only to find himself founding Espressivo.

Michel and his abstract painter wife, Elizabeth Kaminski, moved to Felton in 2004. They are owned by Murphy, the spaniel.